With no accord over how to plug Greece's widening budget hole, frustration is brewing amongst European leaders. Meanwhile Portugal's sovereign bonds also pose a major challenge and a second bailout could be in the cards.
Also, Wesley, Josh and Mark provide their take on where the markets were at today… read on to learn more.
*********************
Earlier today, the Euro rose on the heels of Greek Prime Minister, Lucas Papademos, having raised hopes that a potentially disastrous debt default would be avoided, with the likelihood of a debt swap deal being made this week between the Greek government and private bond holders. However, concerns over Portugal's refinancing ability resulted in capped gains.
On Monday, the European leaders agreed on a permanent Euro zone rescue fund. Most also endorsed stricter budget discipline, but they fell short of reconciling fiscal austerity with growth.
The European Union leaders agreed to accelerate the setup of a full-time 500 billion-Euro ($659 billion) rescue fund. They also endorsed a German-inspired deficit-control treaty.
They left a Brussels summit late Monday, with no accord over how to plug Greece's widening budget hole. German Chancellor, Angela Merkel, also voiced her frustration with the Athens government's failure to carry out an economic makeover.
As a result, the Euro rose 0.4 percent to $1.3186 and remained below a 6 week high of $1.3235.
The outlook for Euro, in the opinion of many analysts, remains on the downside. Should Greece secure its deal with private bondholders and meet its 14.5 billion Euro payment on the 20th of March, the IMF would still have to consider the fiscal and growth objectives of the austerity efforts in Greece and Italy. The liquidity difficulties of Portugal's sovereign bonds also pose a major challenge.
In fact, Portugal's 10-year government bond yield topped 17 percent on Monday. This is the highest since the Euro was launched. This has reignited serious concerns that Lisbon may become the next Athens and indeed require a second bailout to avoid going bankrupt.
In other news, traders were on watch for intervention by the Bank of Japan to prevent further gains in the Yen.
The Dollar slumped to a three-month low against the Yen of 76.18. Its record low around 75.31 was reached on the 31st of October last year.
Japan's Finance Minister, Jun Azumi, said his ministry is prepared to take "decisive" measures. They intend to curb the Yen's appreciation as it approaches a post-World War II high.
All the best!
*********************
EXOTIC TRADING
Yen Strengthens, Euro Under Pressure
The Euro dipped against the Yen and the Dollar touched a 3 month low. However, during the Asian session we saw the Euro rise, supported by hopes for a Greek debt restructuring deal that would help the country avoid a disorderly default.
There is a lot of talk about another Japanese 'Yentervention' especially as the Yen reaches record levels against both the Dollar and Euro.
==================
News Watch For EURJPY
==================
There are no High Impact News Releases Scheduled for the Euro or Yen currency pairs today but traders will be monitoring the German Unemployment Change and Unemployment Rate data due later today.
=============
EURJPY Analysis
=============
Price fell as expected to the 100.300 level and found support at the lower bearish trendline channel. Since then, price has bounce off this trendline and gone on to make it's way all the way up to the upper channel trendline. Take a look at the following image: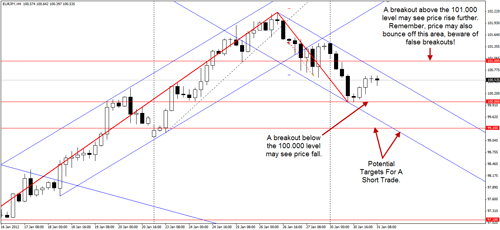 At this point we could see the market go in either direction. Patience is the key here!
We need to wait for a clearly defined movement in a specific direction before we decide to enter a position.
If price goes up and breaks out of the upper channel trendline, I'll be looking to the 101.000 level to offer resistance. Should price break out of this level too I'll be looking to go long.
On the other hand, we may see price dip further down and if there is a breakout below the 100.000 level I'll be looking to enter to the short side.
It may take a while before we see any significant movement in either direction, but I'll keeping an eye out for an entry signal throughout the day.
Happy trading!
*********************
Hi everybody!
We were able to get in on a buy trade last night on the Cable at 6:00pm EST. We entered at 1.57045 and at the present we are in profit for 74 pips. We've moved the stop to break even and are nearing the weekly R1 at 1.5806. I would like to see it head up to R2 at 1.5885.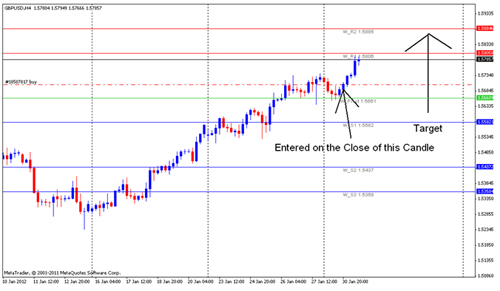 We have 4 upcoming news releases out for the USD this morning:
1.Employment Cost Index at 8:30am. – Medium Impact.
2.S&P/CS Composite-20 HPI at 9:00am. – Medium Impact.
3.Chicago PMI at 9:45am. – Medium Impact.
4.CB Consumer Confidence at 10:00am. – High Impact.
So far these are all medium impact news events, however, the last one is a high impact news at 10:00am so be very careful around this time.
Have a great week!
*********************
Tuesday 31st Jan 12
1st Resistance – 1.3233
2nd Resistance – 1.3302
1st Support – 1.3075
2nd Support – 1.2929
Monthly Pivot – 1.3087
Weekly Pivot – 1.3111
Strategy – As this might be a short term top, target short position.
Tactics – Taking light short positions below 1.3075.
Sell order is still open at 1.3065, 10 pips below support at 1.3075. Stop is set above resistance (1.3233) at 1.3241 and take profit at 1.2929.
As we are above the monthly and weekly pivot the direction has changed to up. There is upward moment but I will keep my short order for the time being. If we have a 4 hour close above resistance at 1.3233 I will close short order and wait for a pull back to get long.
*********************